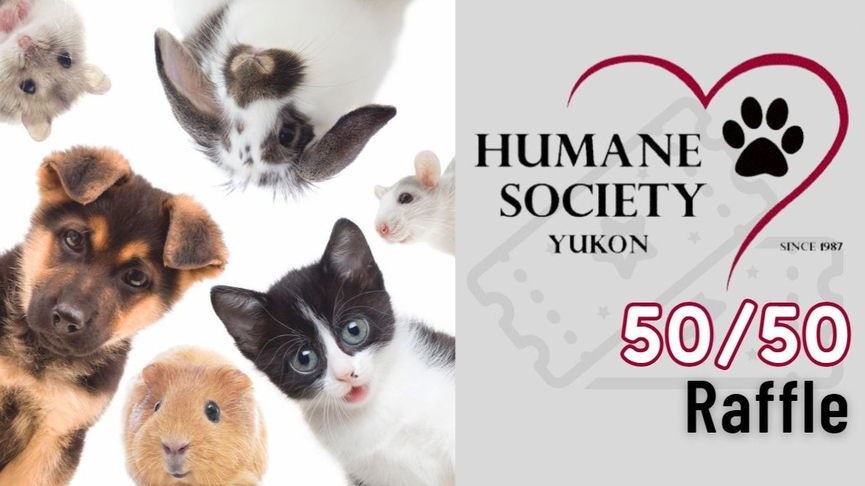 We're holding a fall 50/50 raffle! Click here to get your tickets!
Ticket Prices
50 for $50
12 for $20
4 for $10
1 for $5
You can purchase tickets until November 30, 2022. The draw will take place on December 9, 2022. Winners will be posted here and on Facebook.
Our mission at Humane Society Yukon is to help animals in need. We give them a safe, warm place to stay while we work to find the best forever home for them. In 2021, we adopted out 250 cats and dogs! We have amazing dedicated staff who provide love and care to our animals. We are very lucky to have dedicated volunteers who come and take dogs out for walks and play with them in the yards.
Fundraising is a crucial part of how we raise money to pay for the animals' care, for the shelter facility's maintenance, and for our staff. Along with animal adoption fees and donations, fundraising makes up 75% of our annual budget.
Good luck and thank you for your support!
Licence # 2022-043
RULES
Humane Society Yukon Fall 50/50 rules
1. Players must reside in the Yukon, be 19 years or older, and use a major credit card, Visa Debit or MasterCard Debit. Credit cards used for payment must have a Yukon address.
2. The total value of tickets available is $10,000. The maximum prize value 50% of that value, i.e. $5000.
3. The ticket distribution is:
20@ 1 FOR $5.00 (20 packages available)
608@ 4 FOR $10.00 (152 packages available)
2208@ 12 FOR $20.00 (184 packages available)
4700@ 50 FOR $50.00 (94 packages available)
The total number of tickets available is 7536. 
 4. Ticket sales will begin at 6 AM on November 1, and end on November 30, 2022, at 11:59 PM with the draw taking place at the Mae Bachur Animal Shelter, 126 Tlingit Road, Whitehorse Yukon on December 9 at 12 noon.
5. The 'proof of purchase' with the ticket number will be emailed to purchasers by the registered Electronic Raffle Supplier (Rafflebox) at time of purchase. The physical ticket will be printed and sent by Canada Post, by December 4, 2022 – 5 business days before the draw on December 9, 2022.
This physical ticket must be presented in person, to claim the prize. The emailed ticket is only a proof of purchase and does not represent an actual ticket.
6. The ticket stubs will be produced on a printer.
7. The winners will be determined by a random draw of printed ticket stubs.
8. Ticket stub will be drawn with the first ticket receiving the prize.
9. The winner will be contacted by phone and email. The winner has 30 days to claim the prize. If the prize goes unclaimed for 30 days, a second ticket will be drawn from the remaining numbers for only one extra draw.
10. The winner must sign in receipt of the prize.
11. Draw result will appear on the Humane Society Yukon website and Facebook page.