Humane Society Yukon / Air North Flight Raffle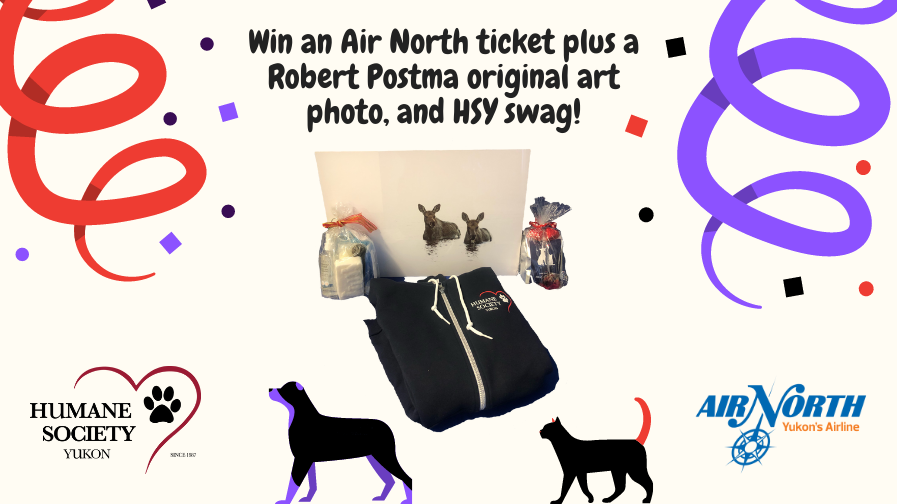 Humane Society Yukon / Air North Flight Raffle
And the winner of the raffle is...
Joshua Hunt!
Enter to win our raffle! Tickets are $25 each and are available for purchase until April 8 here.
The package includes:  
Return flight to Vancouver courtesy of Air North, Yukon's Airline.

Stunning Robert Postma Photography photograph "Cow and Calf" on metal. Measures at 12" x 18".

Warm cuddly Humane Society Yukon hoodie in navy blue with logo.

'Have a Heart' coffee bag with Midnight Sun Coffee Roasters special blend coffee, stunning Lumel Studios glass heart suncatcher, and chocolate treats.

Spic and Span bag with PPE mask, gloves, Yukon-made hand sanitizer, and bespoke coconut oil dog print soap for humans. For the dogs, a homemade cookie, dental bone for teeth cleaning, and doggy shampoo and conditioner.
The raffle package has a total value of $1,115.
Our mission at Humane Society Yukon is to help animals in need. To give them a safe warm place to stay while we try to find the best forever home for them. In 2021, we adopted out 250 cats and dogs! We have an amazing dedicated staff who provide love and care to our animals. We are very lucky to have dedicated volunteers who come and take dogs out for walks play with them in the yards.
Fundraising is a crucial part of how we raise money to pay for the animals, their care, and for our staff. Along with animal adoption fees and donations, fundraising makes up 75% of our annual budget.
Good luck and thank you for your support!
Raffle License #2022-018