Arts & Crafts for Dogs and Cats Online Art Auction Live
We're very excited about the Arts & Crafts for Dogs and Cats Online Art Auction! So many beautiful pieces are included so there is something for everyone. All of the proceeds of this auction go directly to the taking care of the animals in our shelter.
Auction Rules
Bidding starts on Monday, July 12 at 8am and ends Sunday, July 18 at 5pm by the auction computer stamp.
Final bids that are received within 3 minutes of the auction closing will be considered valid.
Bid increments of less than $2.00 will not be accepted.
Some items will have reserve bids on them due to their value and donor's instructions.
If the item is not claimed by Wednesday, July 28, the item will be returned to the donor.
In case of a dispute over the last bid, a decision may take up to 24 hours to resolve.
Payment will be required before the end of the auction closing as per instructions on the site.
Any bid over $350 is eligible for a draw for an Air North, Yukon's Airline ticket. 
Happy bidding!
Images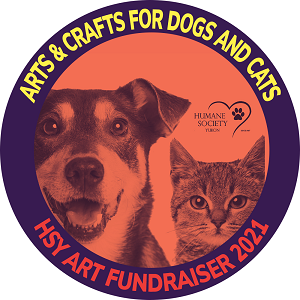 Sub page header image